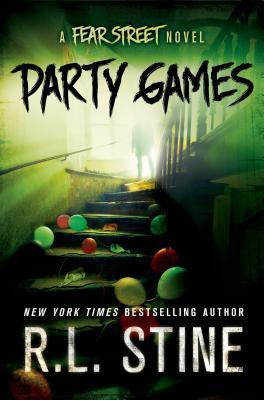 Publisher: St. Martin's Griffin
Pub. Date: Sept. 30, 2014
Format: Paperback
Source: Publisher (via Connecticut Library Association Conference)
Genre: Young Adult, Horror, Thriller, Mystery
Teaser premise by R.L.Stine:

It's about girl named Rachel, who Brendan Fear invites along with a bunch of other people to the Fear's summer house on Fear Island, in the middle of a lake. They're 17, in high school. It's Halloween time, and they're reopening the summerhouse just for this party. Brendan invents games, he loves games, and one by one the guests start getting murdered—every murder is attached to a game. One girl is found all folded up and there's a note that says, 'Twister, anyone?' They're trapped on an island, and there's a killer there who wants to kill everyone. (Goodreads)
I got this book when I went to an event called the Connecticut Library Association's annual meeting. One of the seminars I went to was on upcoming YA books and the publishers of this book was present and were handing out galleys.

I haven't read an R. L. Stine book since I was in middle school reading Goosebumps, and reading this book I felt like I fell right back into that time. The book is fast pace, action packed, and "scary". I put quotes around the scary because (spoiler alert)people keep dying, which is kind of scary, but not really. When people were dying =, I had a hunch, which turned out to be correct, but then we were thrown a curve ball that I didn't see coming.

There isn't a ton of character development in this book, but I don't think there is supposed to be, there never is in these Goosebump type books. There's action, a little scary, then it's over.

I give this book

3.9 stars

because it's not for me, but this is another book that I will thrust upon the reluctant readers who are pushed into the library. It's rated YA but with the exception of like three kisses, there's not much going on that I would deem inappropriate o=for middle grade kids.

Not for me R. L. Stine, but good job. Keep up the good work.