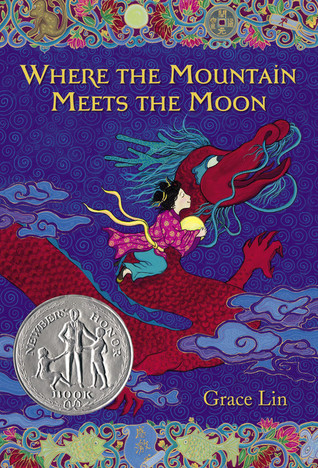 Publisher: Little Brown Books for Children
Publication Date: July 1, 2009
Rating: 4/5
Grace Lin, author of the beloved Year of the Dog and Year of the Rat, returns with a wondrous story of happiness, family, and friendship. A fantasy crossed with Chinese folklore, Where the Mountain Meets the Moon is a timeless adventure story in the classic tradition of The Wizard of Oz.

In the Valley of Fruitless Mountain, a young girl named Minli spends her days working hard in the fields and her nights listening to her father spin fantastic tales about the Jade Dragon and the Old Man of the Moon. Minli's mother, tired of their poor life, chides him for filling her head with nonsense. But Minli believes these enchanting stories and embarks on an extraordinary journey to find the Old Man of the Moon and ask him how her family can change their fortune. She encounters an assorted cast of characters and magical creatures along the way, including a dragon who accompanies her on her quest. (Goodreads)
This was another book for my Junior Book Club at the library. I could kick myself for waiting so long to read this book. I've always loved reading and hearing Folktales. This book is about a girl names Minli who's trying to find the Man on the Moon so that he can help her bring her family fortune. Along the way we, the readers, are told many different foltakes. We learn about the story of Fruitless Mountain, the story of Dragon, a friend that Minli makes along the way, the story of the Goldfish man, and so many more. I loved the Folktales that were peppered through the book. As Minli and Dragon traveled to meet The Old Man of the Moon, we were able to see Minli learn the different lessons that the people she encountered taught her. Therefor it was really no surprise when she made the decision that she made when she finally reached her destination.
I also appreciated the chapters that showed us Minli's parents as they waited for her to come back. One of the top complaints of YA or Middle Grade book is the lack of parental involvement, and when Minli's mom realized that it may have been her fault that her daughter left home in search of a fortune. It was such a touching moment to me.
This book was kind of an "soft" epic adventure. We were with Minli every step of the way as she tried to improve the quality of life for her village and her family, and watching her learn from the people she encountered, was really something special.
This is a great book, very appropriate for the age range and I suggest it to everyone!