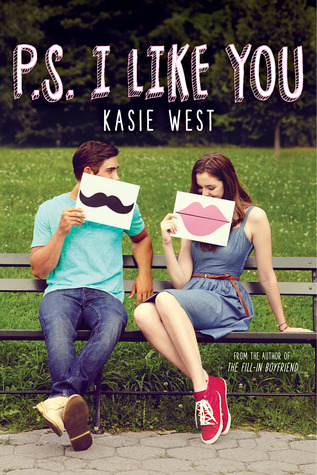 Publisher: Pointe
Publication Date: July 26, 2016
Rating: 4 stars
While spacing out in Chemistry class, Lily scribbles some of her favorite song lyrics onto her desk. The next day, she finds that someone has continued the lyrics on the desk, and added a message to her. Intrigue!
Soon, Lily and her anonymous pen pal are exchanging full-on letters -- sharing secrets, recommending bands, and opening up to each other. Lily realizes she's kind of falling for this letter writer. Only who is he? As Lily attempts to unravel the mystery, and juggle school, friends, crushes, and her crazy family, she discovers that matters of the heart can't always be spelled out...
Well, I have to say, the title of this book alone would have been enough to send me packing if I hadn't read the description first. I'm a closet romantic. I love romance novels, although I would prefer some kind of plot, like running for you lives, or solving some kind of mystery. That being said, something about this idea of this book really got to me. Misunderstood girl writes song lyrics on her desk, only to have someone else complete them. Who doesn't want that to happen in real life. Secretly, everyone wants that to happen. So characters:
Lily:
Our main character. I wouldn't say she's a hipster, more like hipster adjacent. She does her own thing, and while I can't say that she doesn't care what other people think (because she is a teenager, they all care), she's willing to march to the beat of her own drummer regardless of others. She wants to be a song write, but has crazy writers block. That is... until she starts her pen pal excursions with the someone at her school. I decided that I liked Lily when I saw how she interacted with her family. I have younger siblings. My sister and I are 12 years a part, I know what it's like to have them burst in your room, interrupt your time with your friends, having to constantly babysit. It's exhausting, and let me tell you, Lily handled it waaaaay better than I did. She was a great sister, a great daughter, and a pretty good best friend. Also, props to creating an amazing and vivid family dynamic. I loved reading about them.
Cade:
The mortal enemy. While this was Lily's story, and it was sweet. I feel like I wish there was more interaction between Cade and Lily. We saw Thanksgiving, that car ride, a few hallway moments, and the pool. but I don't know... I think I needed a little more. S
POILER ALTER IF YOU COULDN'T FIGURE IT OUT IN THE FIRST THREE CHAPTERS
We learn a lot about Cade from his letter, but I feel like we didn't really get to see it. There was a slight disconnect.
It was obvious to me from the beginning that Cade was the person writing ti Lily, but as I always say when it comes to book, it's not always the ending, it's the journey. I liked it.