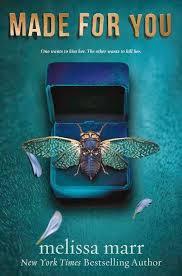 When Eva Tilling wakes up in the hospital, she's confused—who in her sleepy little North Carolina town could have hit her with their car? And why? But before she can consider the question, she finds that she's awoken with a strange new skill: the ability to foresee people's deaths when they touch her. While she is recovering from the hit-and-run, Nate, an old flame, reappears, and the two must traverse their rocky past as they figure out how to use Eva's power to keep her friends—and themselves—alive. But while Eva and Nate grow closer, the killer grows increasingly frantic in his attempt to get to Eva.

For the first time, New York Times bestselling author Melissa Marr has applied her extraordinary talent to contemporary realism. Chilling twists, unrequited obsession, and high-stakes romance drive this Gothic, racy thriller—a story of small-town oppression and salvation. Melissa's fans, and every YA reader, will find its wild ride enthralling. (Goodreads)
As silly as it may seem this is my first Melissa Marr book. I've always intended to read one of her books, but I never got around to it. This one was pretty good, the book begins with a literal bang, when Eva (our main character) is run down by some guy who calls himself Judge. When Eva wakes up, she learns that when people touch her (not to be confused with when she touches them), she can see how their going to die. Soon friends of her turn begin to die and freaky messages for her, are carved into their skin. It's all very morbid. The book switches POV's from Eva, her friend Grace, and Judge. We learn that Judge is just nuts, she loves Eva and thinks God speaks to him, and he's killing all of these people for her, it's all a mess. However, it's a mess that I figured out about a third of the way through the book. I'm pretty sure the author wanted us to put the pieces together, so it's okay.
We saw something in this book that a lot of people complain YA book lack, parents. In the beginning of the book while Eva is in the hospital her parents are away, and Grace and her mom (known as the General) are caring for her. However when the parents finally do show up, the mom is pretty awesome. She's a true southern belle and just an awesome and at times hilarious character.
My biggest issue which wasn't actually a big issue at all was the relationship between Eva and Nate. They were best friends, then one day Nate shut Eva out of his life and went on to be a big jerk and a "man-slut" (I kind of got tired of reading that). Then when Nate sees Eva in the hospital he declares that he's sorry and that he wants to be friends again. There wasn't even much of an explanation. As irritating as this was, I decided to over look it because Eva was just as annoyed as I was. At one point she calls him on his BS and it was pretty awesome. Obviously they continue on to a romantic relationship but I was glad to see a character stand up and say "hey, that's not cool." I'm glad to see more of the communication that I practically beg for in these YA novels.
So in conclusion, the book was pretty good, I'll give it
4 stars
, and maybe read another Melissa Marr book at some point.