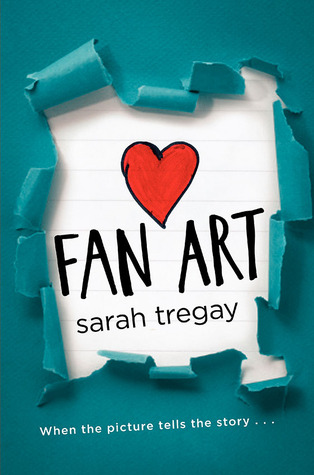 Publisher: HarperCollins
Pub. Date: June 17, 2014
Format: Paper back
Genre: Young Adult, Romance, LGBT
Source: Sent by Publisher
When the picture tells the story…

Senior year is almost over, and Jamie Peterson has a big problem. Not college—that's all set. Not prom—he'll find a date somehow. No, it's the worst problem of all: he's fallen for his best friend.

As much as Jamie tries to keep it under wraps, everyone seems to know where his affections lie, and the giggling girls in art class are determined to help Jamie get together with Mason. But Jamie isn't sure if that's what he wants—because as much as Jamie would like to come clean to Mason, what if the truth ruins everything? What if there are no more road trips, taco dinners, or movie nights? Does he dare risk a childhood friendship for romance?

This book is about what happens when a picture reveals what we can't say, when art is truer than life, and how falling in love is easy, except when it's not. Fan Art explores the joys and pains of friendship, of pressing boundaries, and how facing our worst fears can sometimes lead us to what we want most. (Goodreads)
I can't remember how I wound up with an ARC of this book, I think I won a contest, I don't know, but thank goodness I did.

Jamie, this poor kid. He's in love with his best friend Mason, they've known each other since they were in the third grade, and although Mason's come out of the closet to his mom and step-father (which is cool and new), he hasn't told anyone else. He realizes, almost jarringly, the feelings that he has for Mason and everything begins to fall apart. Everything gets worse however, when Mason begins to fight for a graphic short that is submitted to the literary magazine that he is a part of, he wants it submitted, but other members of the magazine worry about parents and funding because the romantic characters in the short are two boys. Jamie begins to find it harder and harder to be around Mason and worry's himself almost sick when he thinks about coming out to him. It was driving me crazy. I can't say that I understand how hard it is to have to explain your sexual orientation to someone, because I have no idea, so I'm not going to judge it, I don't have that right, but I guess I just wish Jamie had enough confidence in his friendship with Mason to tell him the truth, it would have saved the kid so much stress.
Mason, we actually don't see a lot of him. We know that his home life isn't the easiest because he had a MAJOR issues with some of the decisions that his father has made. I have to say that I wish Mason's home life had been fleshed out more. We see a bit of his brother and sister who actually seem to be pretty cool, and we see even less of his mother. It made it harder for me to connect with Mason. We saw just enough of Jamie's parents to be satisfied, but we were left hanging with Mason, which made the end of the book a littler harder to connect with.
Eden, not sure what to say about her. She became an important character in the book, kind of Jamie's confidant, but... I just couldn't connect with her, I was almost there, but not quite. I think a part of that comes from not really getting to know her home life and past (similarly to with Mason). I think part of that problem arises from the fact that the book is told from Jamie's point of view so we can't hop into her world. I don't know. I liked her and everything, but it was rather *blah*.
I will say that i kind of got tired of reading the words "art geek girls" it was amusing at first, then it kind of got irritating, but that was all made up for how Jamie stood up and did what he had to do in the literary magazine, and a few lines that I loved from the book. "I study the laces on my Converse, how they've gone gray near the eyelets. I wonder how much string I'll need to tie up the hole in my heart." and "He stands there, dripping rainwater like tears on the title," and "In the middle of the shittiest day of you goddamned life you pulled my graduation tassel out of the trashcan?"
Those were a few lines that resonated with me, and it helps to balance out some of my other issues. Over all the book was pretty good even though looking at my review it may not sound like it. I think this is another book that falls under, good for reluctant readers, but it's didn't quite hit all of my buttons, so I give it 4 stars, because I know this book can be amazing for the right kind of reader.