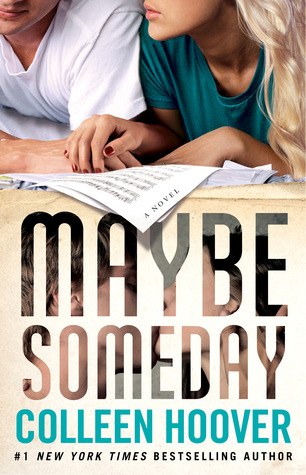 Publisher: Atria Books
Pub. Date: March 18, 2014
Format: ebook
Genre: New Adult, Romance
Source: Nook
At twenty-two years old, aspiring musician Sydney Blake has a great life: She's in college, working a steady job, in love with her wonderful boyfriend, Hunter, and rooming with her good friend, Tori. But everything changes when she discovers Hunter cheating on her with Tori—and she is left trying to decide what to do next.

Sydney becomes captivated by her mysterious neighbor, Ridge Lawson. She can't take her eyes off him or stop listening to the daily guitar playing he does out on his balcony. She can feel the harmony and vibrations in his music. And there's something about Sydney that Ridge can't ignore, either: He seems to have finally found his muse. When their inevitable encounter happens, they soon find themselves needing each other in more ways than one… (Goodreads)
I learn about this book reading a review that one of the bloggers I follow wrote. I can't remember who wrote the review, and I could kick myself for not making a note of it because this was a good book.
FINALLY A BOOK WHERE THE MAIN CHARACTER ACTUALLY COMMUNICATE WITH EACH OTHER!!!!!!!!! IT'S ABOUT FREAKING TIME!!!
So basically, we have a girl Sydney who has left her roommate and her apartment because she found out her roommate was sleeping with her boyfriend. How did she find this out you ask, the guy who lived across the courtyard told her. How did they meet, he could tell that she was making up lyrics to the songs he was writing on the balcony (for his brothers band) and needed to know what they were because he had writers block (btw he could see her mouthing the words). So the guys name is Ridge and he tells Sydney about the boyfriend and roommate, Sydney sits outside with a suitcase and no where to go. She winds up in the apartment with Ridge and his two roommates until she can find somewhere to go. Now at this point, we can already tell that not only was Sydney not all that interested in her relationship with the crappy boyfriend, but she's developed a small crush on Ridge as she watched him write songs on his guitar on the balcony.
Okay, plot twist,<spoiler> Ridge is deaf. I've never read a book with a deaf character, I was so shocked when I read those words that I just kind of read them over and over and over and over. For some reason it made me feel more, my feels went crazy. As we read and Ridge and Sydney work together writing songs you can feel the tension, they both seem to really care for each other.
Plot twist, he has a girlfriend. After learning this little tid bit of information, as well as how strong of a history Ridge and his girlfriend have, we're not sure what to do. I wanted Ridge and Sydney to be together because it was obvious that Ridge cared for her, but he said from the very beginning that he wouldn't leave her.</spoiler> We watch as Ridge and Sydney literally talk about their feelings for each other and try to fight them. It was amazing, as much as I wanted to see their relationship work, it was an entirely new experience watching people try to resist their reactions to each other.
I've already released some spoilers, and I wont say how it ends, but this book was so much better than I was prepared for, this is another one of the few books I give a 5.