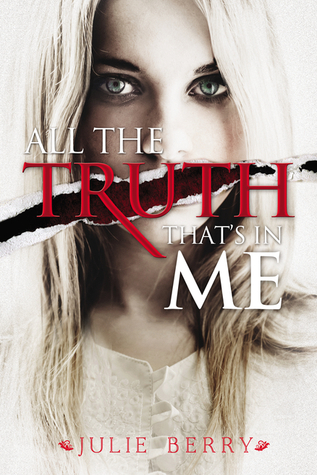 Publisher: Viking Juvenile
Publication Date: September 26, 2013
Rating: 3.5/5
Four years ago, Judith and her best friend disappeared from their small town of Roswell Station. Two years ago, only Judith returned, permanently mutilated, reviled and ignored by those who were once her friends and family. Unable to speak, Judith lives like a ghost in her own home, silently pouring out her thoughts to the boy who's owned her heart as long as she can remember—even if he doesn't know it—her childhood friend, Lucas. But when Roswell Station is attacked, long-buried secrets come to light, and Judith is forced to choose: continue to live in silence, or recover her voice, even if it means changing her world, and the lives around her, forever. This startlingly original novel will shock and disturb you; it will fill you with Judith's passion and longing; and its mysteries will keep you feverishly turning the pages until the very last.
(
Goodreads
)
Overall I liked this book. It's very strange because it's not normally the type of book that I would have been interested in, if I'd had all the details, but I'm still glad I read it.
Judith was kidnapped, when she was returned to her family, her tongue had been cut out and she was officially the town pariah, even among her own mother. Although it's possible for Judith to speak, she doesn't because not only has her mother forbidden it, but because it's now a constant struggle. While we, the readers, are inside Judith's mind we learn of her childhood crush on a boy, now man, named Lucas, and we also learn that
(view spoiler)
. Needless to say, it's makes their situation strange. Just before Judith was taken, another girl disappeared and later turned up dead. The father of that dead girl resents Judith for returning and we know that he's going to cause problems for her.
So I had no idea this book was period, it didn't take me long to figure it out, but when I did, I'd assumed it was a flashback or something and eventually we'd speed up to modern time, we didn't. I have to say I wasn't mad about it. It actually made the story more interesting. It was deplorable the way Judith was treated, and all because they'd assumed a man had sexually violated her. Today, she would have received comfort and counseling, and everyone she encountered would have told her it wasn't her fault, but sadly, in the past, a girls virtue was all she had. Because she was "mute" people in the town thought they could speak to her as if she was nothing more than dirt under their shoe, the speech wasn't as crude as it would have been today, but it was still there.
One of the interesting things about this book was that it was a mystery, there were things we didn't know, but the mystery was unraveled slowly, I wasn't sitting on the edge of my seat (which is what I personally prefer), but I still wanted to know, I appreciate that the author was able to accomplish that. Would I read the book again? No. but was it worth the read? Sure.