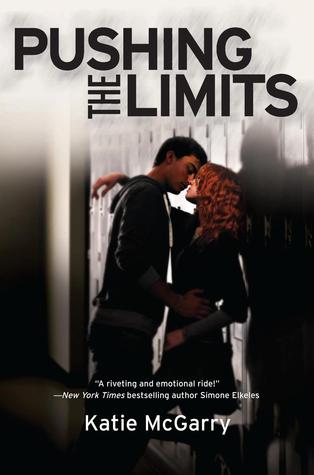 Publisher: Harlequin Teen
Publication Date: July 31, 2012
Rating: 4/5
So wrong for each other …and yet so right.

No one knows what happened the night Echo Emerson went from popular girl with jock boyfriend to gossiped-about outsider with "freaky" scars on her arms. Even Echo can't remember the whole truth of that horrible night. All she knows is that she wants everything to go back to normal.

But when Noah Hutchins, the smoking-hot, girl-using loner in the black leather jacket, explodes into her life with his tough attitude and surprising understanding, Echo's world shifts in ways she could never have imagined. They should have nothing in common. And with the secrets they both keep, being together is pretty much impossible.

Yet the crazy attraction between them refuses to go away. And Echo has to ask herself just how far they can push the limits and what she'll risk for the one guy who might teach her how to love again. (Goodreads)
At one point Echo was a part of the popular crowd with a jock boyfriend, chasing her dream of being an artist. Noah was a jock with loving parents and two young brothers. In present day Echo is the school freak and Noah, the bad boy foster kid who'll sleep with any girl with legs.
I have to say, when we learned that Echo had scars on her arms, like other readers, I'd assumed that she'd cut herself and that we'd spend the rest of the book slowly learning why. However, when we learned what really happened, I must say I was surprised. As I read, I slowly put the pieces together, but that was a plot twist that I don't think many could have put together before hand. I liked Echo as a character, although I typically like my girls stronger, we saw some of that backbone during her altercations with Beth and at the party at Noah's house. I must say however, that I was she could say (or even think) the word sex. I don't mind that she was a high school virgin, we see quite a bit of that in YA books actually. I can even understand that sex was difficult for her to think about she almost sounded like she was 10 years old when sex came up. It was really hard to suspend my disbelief with that. It continually took me out of the story.
I thought Noah had a great story. It began very typical, a foster kid who bounced from bad home to bad home, and is thus hardened to the world. Unlike other foster kid stories (sorry if that sounds insensitive) Noah came from a good home, and it was taken from him. The story becomes interesting when we learn that Noah's younger brothers are with another family. Noah's convinced the family must be abusing his brother's like his foster parents abused him. It doesn't help that his brothers foster parents seem to hate him, and don't want his brothers to see him. We, as readers, are pretty sure that the boys' foster parents are probably alright, but… you never know. When Noah's youngest brother is hurt, Noah begins the process of adopting them when he turns 18 and ages out of the system.
The relationship between Noah and Echo is… rather typical, but done well. Tough boy protects weak girl, but as Noah tries to help Echo remember what happened the night she got the scars on her arms, you can't help but love the both of them and route for their relationship. I like this book so much more than I was prepared to, (the mushy cover turned me off). Noah and Echo helped each other in very real ways, there was nothing superficial about this book and I can't wait to read the others! These are real characters with real problems, that are almost hard to read about sometimes, let alone hard to imagine happening. This is one of those books that some could call dark, but I think it's so important for teens to read. They need to know what it's like for someone to be a Noah or an Echo, so that when they meet someone who those characters (because they probably will). People when only learn to truly accept each other, when they can understand each other, and books like this help us do that.